Sustainability
Human Capital
Basic Approach
The H.U. Group promotes the development of an organizational culture that is diverse, healthy, and active, and carries out human-centric activities based on its Human Rights Policy, Diversity Policy, Occupational Health and Safety Policy, and Training and Development Policy.
Human Rights Policy
Established on July 29th 2019
Revised on February 1st 2021
The H.U. Group respects internationally recognized human rights declarations and principles such as the International Bill of Human Rights and the United Nations Guiding Principles on Business and Human Rights. We pursue initiatives that reflect our belief in respecting the human rights of all people involved in our business and in taking responsibility to protect the rights of workers.
We respect human rights and do our utmost to avoid and reduce any negative impact on human rights in all processes related to group activities.
We never discriminate unfairly on the grounds of age, gender, sexual orientation, gender identity, origin, nationality, race, color of skin, presence or absence of disability, religion, or political beliefs.
We comply with labor laws and regulations related to employment, wages, and other matters related to working conditions in the countries in which we conduct business.
We forbid child labor, forced labor, or human trafficking of any type.
We will work to remedy the situation through appropriate internal and external procedures if it becomes clear that the H.U. Group has caused or contributed to a negative impact on human rights.
We provide appropriate education and enlightenment to ensure this policy is incorporated into all activities of the H.U. Group.
Diversity Policy
Established on July 29th 2019
Revised on July 1st 2020
The H.U. Group promotes diversity to strengthen ongoing corporate growth and global competitiveness in a society of declining birthrates, aging populations, and rapid globalization. We give rise to innovation and create new value as each individual in our diverse base of human resources maximizes their skills, contributing to our corporate activities.
We create systems that provide career path support and reward employees according to their contributions to ensure every employee can express their full potential, regardless of personality or personal attributes.
We will provide an environment that hires, promotes to management, improves rates of return from childcare leave, and engages in other measures to encourage women to work longer careers within the H.U. Group to create a society in which women can express their individuality and demonstrate their abilities (promoting women's participation and advancement).
We engage in creating rewarding work for people with disabilities, actively hiring such individuals and providing a comfortable working environment that respects individuality.
Occupational Health and Safety Policy
Established on July 29th 2019
Revised on July 1st 2020
H.U.To embody the corporate philosophy of the H.U. Group, we must provide employees with an environment in which they can participate in a healthy and active manner. We create work environments that incorporate considerations of labor, safety, and hygiene, resulting in workplaces in which our people can work comfortably and with peace of mind.
We comply with relevant laws and regulations, as well as internal rules, concerning occupational health and safety.
We have established a health and safety system to ensure a healthy working environment in which employees can work safely and securely.
We pursue measures against the risk of dangers and hazards, including disasters, accidents, and infectious diseases. We respond promptly to any occurrence, and we implement detailed measures to prevent recurrence.
We continue to enhance and strengthen workplace accident prevention education for employees to ensure compliance with the preceding policies.
Training and Development Policy
Established on October 11th 2019
Revised on July 14th 2022
The H.U. Group believes that growth based on the self-directed career development of each employee is the most important, essential element in the Group's sustainable growth and ongoing contribution to society. To achieve this, we promote career development based on self-reliance, self-direction and self-responsibility, supporting employee growth by providing more opportunities to learn and gain experience.
Based on individual skill development plans, we ensure that each employee can gain experience through their daily work activities while creating and supporting strategic learning opportunities through group training, e-learning and so on.
Through internal recruitment, regular job rotations and elective training, we provide opportunities for employees to try new types of work and gain experiences to expand the potential of each employee.
We respect that employees will recognize and think about their own values and future aspirations, make and act upon choices for various learning opportunities toward their self-realization, and take responsibility for their own actions.
Management
The Human Capital Subcommittee, managed by the division head of Human Resources at H.U. Group Holdings as its main driver, promotes activities linked to various policies. In addition to the Human Capital Subcommittee, we have established a Health and Safety Committee and Health Management Promotion Structure, and will regularly monitor the progress of these activity plans and their results, striving to act and take corrective action going forward.
The Central Health and Safety Committee at Company headquarters identifies activity reports, urgent issues, and important company-wide promotion issues at each business site, sets semi-annual health and safety targets, and improves and refines the environment through the PDCA cycle.
Health and Safety Committee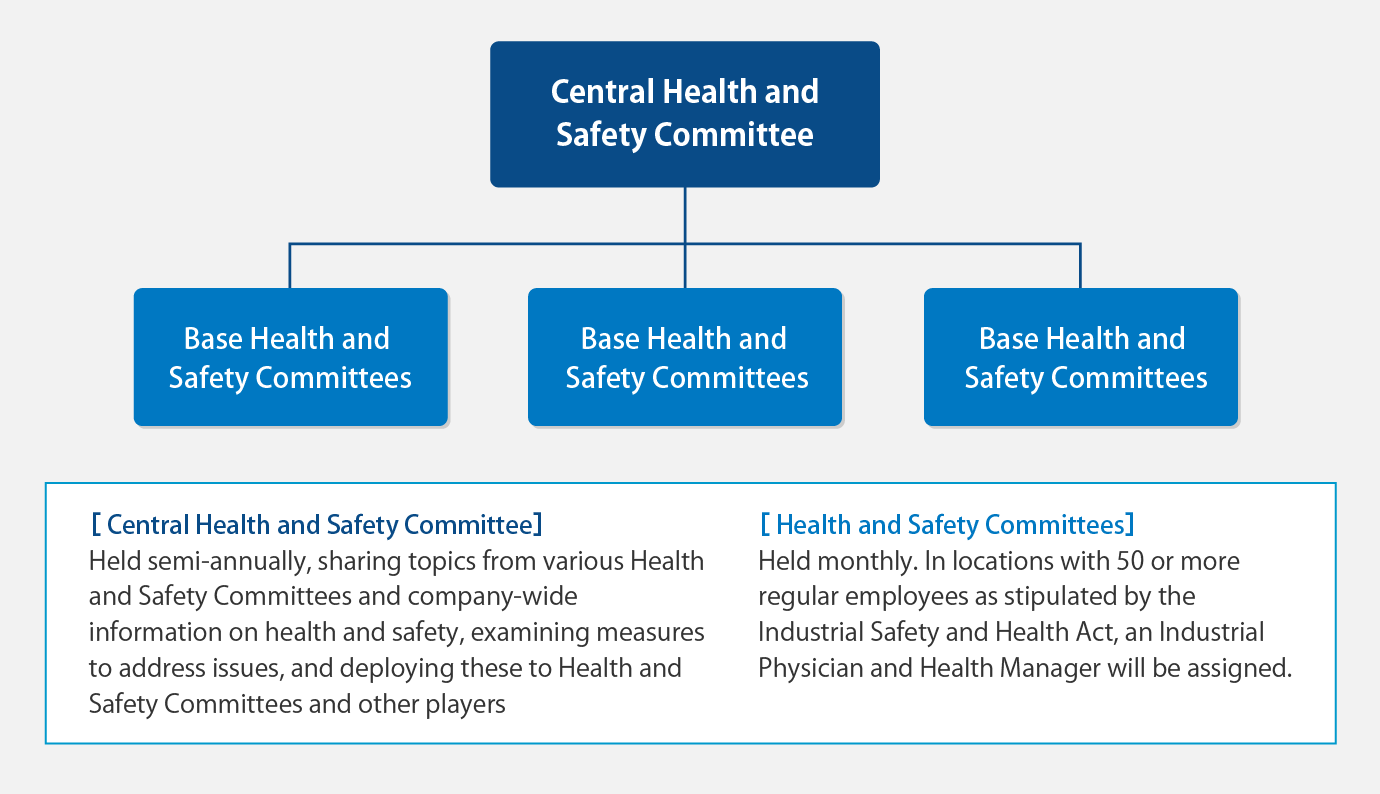 Targets and Results
We have created KPIs covering the respective areas of the Human Rights Policy, Diversity Policy, Occupational Health and Safety Policy, and Training and Development Policy, and are working to achieve our three-year targets.

Sustainability Roadmap for Human Capital (Three-year Targets)
KPI
Performance
Forecast
Target
Major Category
Subcategory
Item
Unit
2018
2019
2020
Target
Actual
2022
Compliance with labor-related laws and human rights in the countries and regions where business is conducted
Violation of labor condition laws and regulations
-
Cases
0
0
0
0
0
0
Forced labor / child labor
Number of forced labor reports
Cases
0
0
0
0
0
0
Number of child labor reports
Cases
0
0
0
0
0
0
Promotion of work-life balance
Promotion of taking paid leave
%
-
-
54.6
65
61.7
70
Japan
%
44.0
60.1
48.2
52.0
-
Average overtime hours per month
Hours
-
-
16.9
5
20.4
5
Japan
19.0
20.7
17.1
22.2
Diversity promotion status
Percentage of persons with disabilities hired
Japan
%
1.61
1.86
2.3
2.3
2.24
2.3
Percentage of female managers
%
-
-
16.8
18
18.6
20
Japan
%
14.1
14.2
13.4
12.2
-
Status of Kurumin certification acquisition promotion
Female employees taking maternity leave
Peoples
-
-
234
185
205
200
Japan
84
173
219
196
-
Percentage of female employees returning to work after maternity leave
%
-
-
97.9
100
98.8
100
Japan
90.6
96.8
97.7
98.6
-
Engagement survey promotion
Response rate
-
%
-
80
-
90
88
-
Promotion status of human resources development
Average annual training time per employee
Total time for group training, e-learning, distance education, etc.
Hours
9.5
7.8
23.4
20
35.3
25
Health management
Acquisition of White 500 status
-
-
-
-
-
-
〇
〇
Applicable range
FY2018: Three major companies *
FY2019: Japanese group companies subject to internal control evaluation
FY2020₋2022: Japanese and overseas group companies subject to internal control evaluation
* H.U. Group Holdings, Inc., SRL, Inc. and Fujirebio inc.
Initiatives
Human Rights
In addition to its Human Rights Policy, the H.U. Group has established the item (1) Respect for Human Rights in Section 4, Relationship with Society in its Code of Conduct, which states, The H.U. Group will respect internationally recognized human rights. H.U. will respect the rights of all persons involved in the business activities of the H.U. Group and make its best efforts to ensure that such rights will not be infringed upon. This is in accordance with the stipulations of the Universal Declaration of Human Rights, which says that all human beings are born free and equal in dignity and rights, and with the United Nations' International Bill of Human Rights. In addition to complying with laws and regulations, we clearly state that discrimination, harassment, forced labor and child labor are prohibited in order to ensure a higher level of effectiveness, and we are increasing awareness among employees through various training programs. In March 2019, we participated in the United Nations Global Compact and made clear our corporate stance on the 10 principles covering Human Rights, Labour, Environment, ant Anti-Corruption.
In our induction training programs, including mid-career recruitment, we strive to educate employees and improve their effectiveness through learning about key concepts such as diversity, equal opportunities, and prohibiting discrimination in the workplace.
We also provide an in-house training environment where all employees—including managers—can receive harassment training at all times, and are working to create a workplace that ensures mutual respect for each other's values and philosophies. The training includes explanations of specific actions that managers should take when they receive a report of harassment.
Diversity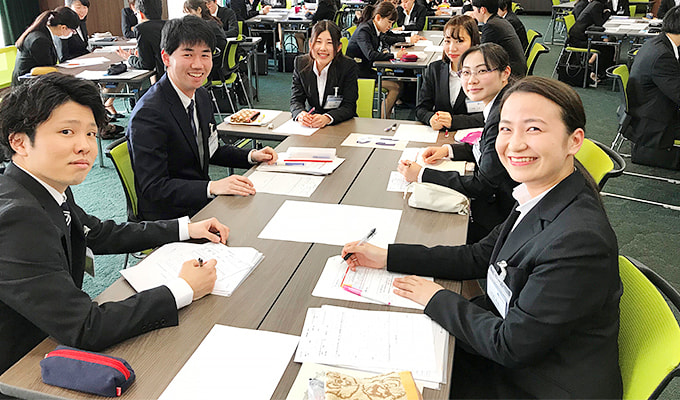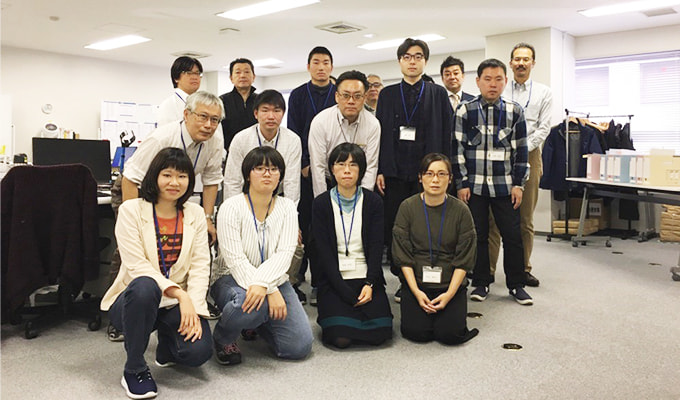 In addition to its Diversity Policy, the H.U. Group advocates respect for diverse values under the Mutual Respect section of the Values and Traits under its Group Philosophy system, ensuring diverse human resources regardless of nationality, age, or gender. Employees range in age from the late teens to the late 60s, and many new graduates hired in recent years are women. Furthermore, we are focusing on promoting the success of women, setting a high ratio of female managers and those returning to work after childcare leave, and otherwise developing measures to create an environment in which more women can play active roles. In June 2019, we were selected as a component stock of the MSCI Japan Empowering Women Index (WIN).
In April 2019, we established H.U. Cast, which has been certified as a specified subsidiary, providing a place to demonstrate a variety of personalities, and we are gradually expanding our business to promote the employment of people with disabilities.
Occupational Health and Safety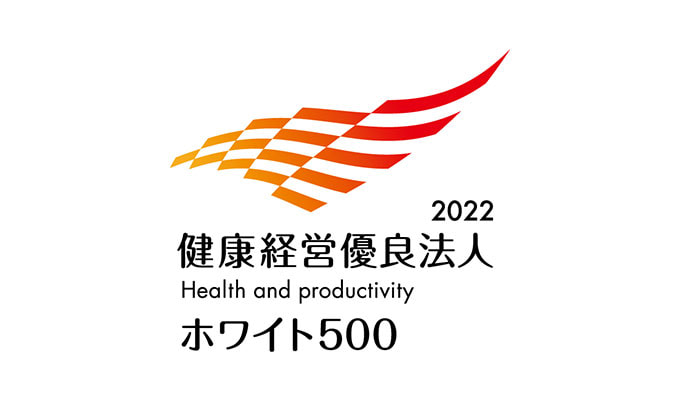 The H.U. Group, prioritizing labor, safety, and hygiene, has established the Occupational Health and Safety Policy. Based on this guideline, we formulate an annual Occupational Health and Safety Plan. In 2019, we have codified our position as a corporation oriented toward health in our Health Declaration, and in 2020 we established the Health Management Promotion Office, further strengthening our initiatives in health management.
In 2022, four companies from the H.U. Group including H.U. Group Holdings, Inc. and consolidated subsidiaries SRL, Inc., Fujirebio inc. and H.U. Frontier, Inc. were certified as White 500 companies in the large enterprise category of the 2022 Certified Health & Productivity Management Outstanding Organizations Recognition Program, under which selections are jointly made by the Ministry of Economy, Trade and Industry and Nippon Kenko Kaigi.
In Japan, based on the Industrial Safety and Health Act, safety and health committees have been set up at each base with 50 or more employees, and representatives of the company and the labor union hold regular discussions on occupational health and safety. In addition, in collaboration with health insurance associations, we are also working to maintain and improve the physical and mental health of our employees.
Furthermore, in accordance with the standards of the Labor Standards Law, representatives are selected from employees at each business site, and labor-management agreements are concluded after agreement between the employee representatives and management. In addition to minimum wages and occupational safety and health, we are maintaining sound labor-management relations by improving company systems and regularly exchanging opinions about the business environment.
Going forward, we will continue to comply with local laws and regulations relating to occupational health and safety in the countries in which we operate, including the reduction of long working hours and the appropriate management of working hours in general.
Training and Development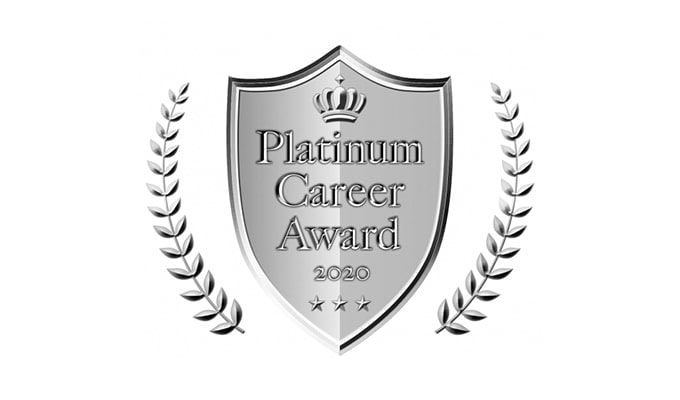 The H.U. Group clearly states in its Training and Development Policy that growth based on the self-directed career development of each employee is the most important, essential element in the Group's sustainable growth and ongoing contribution to society. It can be said that securing and training superior and highly specialized human resources is the basis for our doing business. However, many issues are present related to human resources, such as skills transfers and labor shortages due to the declining working population. With this context, the entire Group is exploring various measures, such as talent reviews, training for manager cultivation, and training for improving specializations at operating companies. We are also focusing our efforts on promoting work style reforms so that diverse human resources can play an active role.
To implement our corporate action guidelines in practice, we strive to ensure that respect for human rights, anti-corruption and anti-bribery measures are thoroughly enforced among all employees, through the distribution of compliance handbooks and in-house training.
In 2021, we applied for the Platinum Career Award sponsored by Toyo Keizai, ranking in 101st place out of 1,019 companies.
Sustainability Subcommittee