Sustainability
Philanthropy
Basic Approach
In 1981, the H.U. Group initiated an open symposium so that the general public can learn about medical issues, a project to encourage the training and research of future medical technologists, and the predecessor to the local community project. As we pursue our established activities, we will continue with our unique H.U. Group approach facing the social issues of our times.
Philanthropy Policy
Established on October 1st 2018
Revised on July 1st 2020
The H.U. Group promotes philanthropy that creates a healthy and prosperous society and goes beyond our business domain. We will effectively utilize available resources and serve as a member of the global community while continuously disclosing our outcomes quantitatively and qualitatively.
We aim to resolve social issues on health, human resources, the environment, local communities and disasters, in collaboration with NPOs, patients associations and other organizations advancing innovative activities. We address care-related issues over the long term in particular.
We offer various support programs and seek to run them effectively so that the voluntary involvement of employees in philanthropic activities leads to their personal growth and sense of fulfillment and pride as a group employee.
We strive to create novel ideas that merge the knowledge and issue awareness gained through philanthropic activities and the technological expertise cultivated through our business, and to develop philanthropic programs that leverage the various skills and problem awareness of each employee, to continually redefine our corporate identity.
Management
The Philanthropy Subcommittee at H.U. Group Holdings as its main driver, formulates and executes plans related to new social contribution activities. Further, for philanthropy activities conducted at each base, it cooperates as appropriate as a system led by various departments. This subcommittee regularly monitors the progress of these activity plans and their results, and strives to act and take corrective action going forward.
Initiatives
We are engaged in Philanthropy activities in line with our core business, including providing research subsidies for clinical tests, accepting overseas trainees, and educational symposiums. Since FY2018, we have been promoting activities such as volunteer activities by employees and matching donations from employees. Since FY2019, we have started activities to support medical institutions and in-hospital public institutions. In addition, each group company has established a volunteer paid holiday and transportation expenses support system and is promoting voluntary activities by employees.
Major Activities
Participatory Social Initiatives by Employees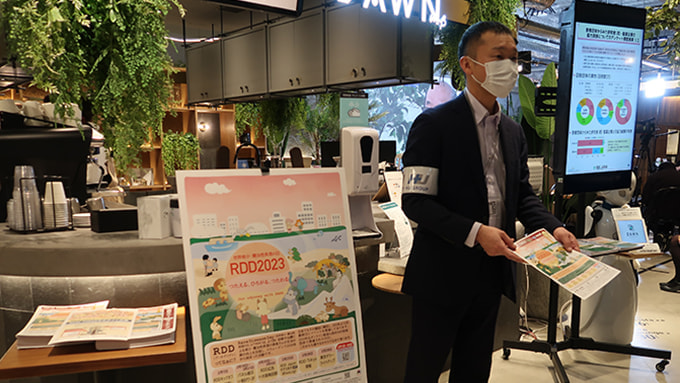 ■ Rare Disease Day; Operations Support for Educational Events
H.U. Group employees volunteered to help stage Rare Disease Day events in Hokkaido, Saitama, Tokyo, Aichi, Osaka, Fukuoka, and Saga. Our volunteers spent time learning more about and engaging with patient advocacy groups and rare disease patients.
Rare Disease Day
A worldwide event promoting awareness of rare diseases,held on or around the last day of February.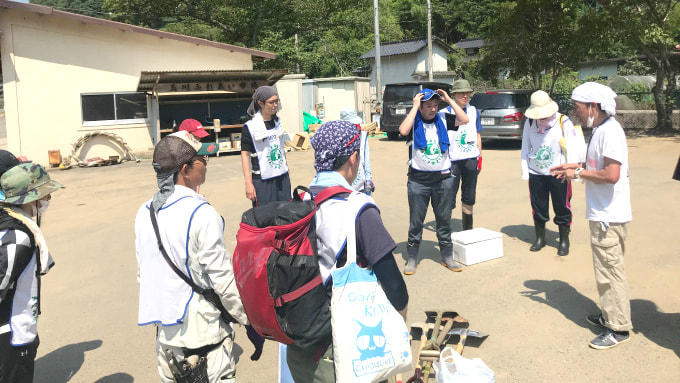 ■ Volunteering for the torrential rains in western Japan
Initial situation
We volunteered to support areas devastated by the torrential rains in western Japan, which occurred in July 7, 2018. Based on the collected information about the areas ready for early acceptance of non-local volunteers, 18 employees provided onsite disaster relief through the Takahashi City volunteer center in Okayama Prefecture for two days (July 15 and 16).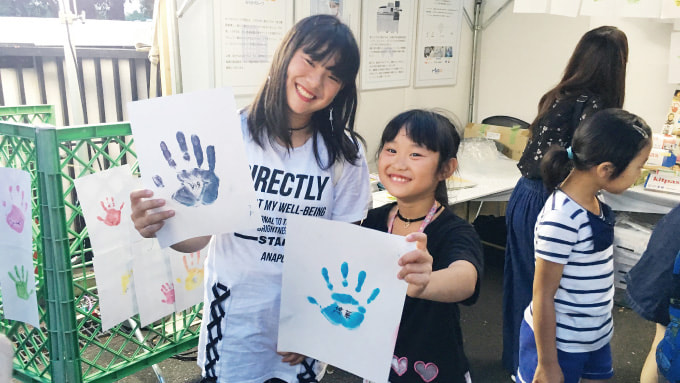 ■ Summer festival for a vibrant community in Hachioji
Initial situation
We have hosted a summer festival at the Hachioji Office every year since 1981 to support local development. The festival has lately grown to welcome around 3,000 neighborhood residents. Since fiscal 2017, we have showcased our collaborative efforts with other organizations in the CSR booth, such as "Hepatitis: Think Again" project and Hand Stamp Art Project.
Donations of Funds and Supplies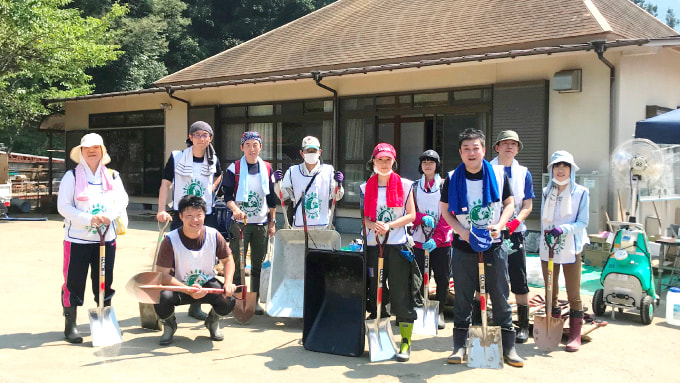 ■ Matching employee donation: H.U. Group Disaster Relief Donation Scheme
We have set up the H.U. Group Disaster Relief Donation Scheme, which matches amounts voluntarily donated by employees with company contributions to provide relief to disaster areas. In fiscal 2018, we initiated the scheme for the torrential rains in western Japan and the Hokkaido Eastern Iburi earthquake. H.U. Group Holdings donated a total of 1.32 million yen to Civic Force, a public interest incorporated association, and Japanese Red Cross Society.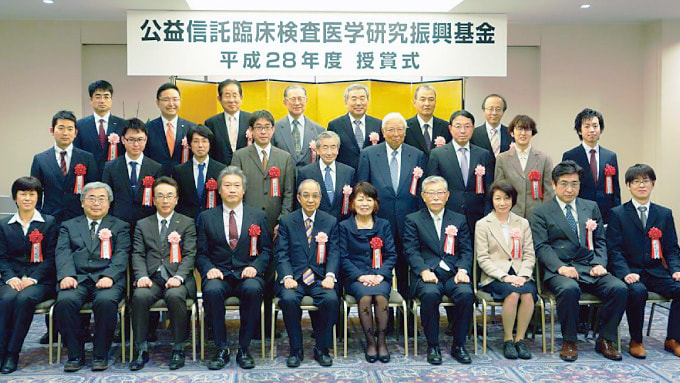 ■ Charitable trust fund for healthcare
For 30 years, we have been running the Charitable Trust Laboratory Medicine Research Foundation of Japan, which supports future researchers and contributes to advances in medicine and medical technology. We help raise the standards in the industry as a whole, with funding available to all hospitals and researchers. Total funding has exceeded 200 million yen by fiscal 2018.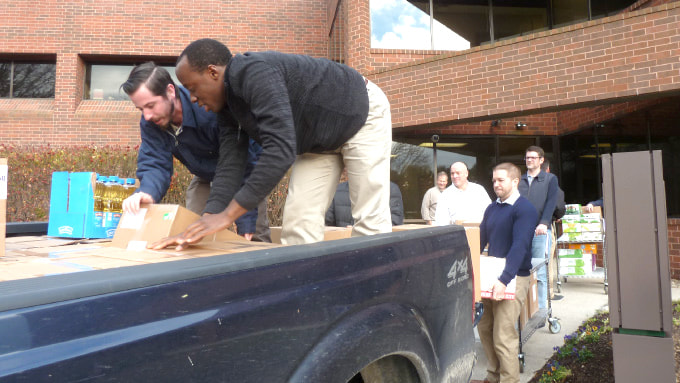 ■ Philabundance Annual Holiday Food Drive
Initial situation
Fujirebio Diagnostics, Inc. employees participated in an annual food drive during the holiday season to benefit Philabundance.
The Philabundance food drive is the largest event of its kind in the United States and has the mission of feeding those in need.
The Malvern, Pennsylvania based employees set a goal of collecting one ton (2,000 pounds) of food and ultimately ended up delivering 2,061 pounds to the food drive.
Initiatives Leveraging Our Expertise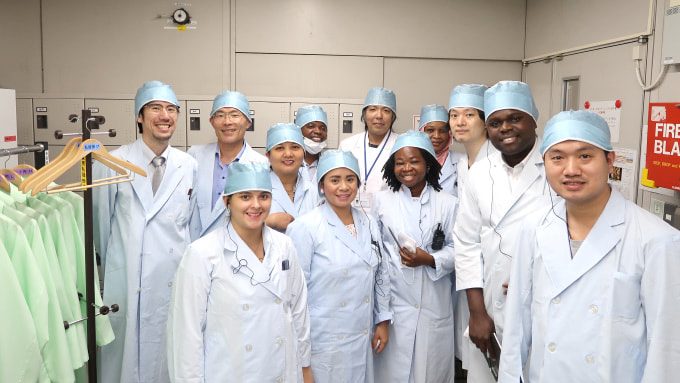 ■ International trainee program
Through Japan International Cooperation Agency (JICA), we accept diagnostic technicians and their supervisors from developing countries as trainees. Under this program, they learn about diagnostic technologies in Japan. Fujirebio exports its products to developing countries through WHO, UNICEF and other international organizations as part of its efforts for global healthcare.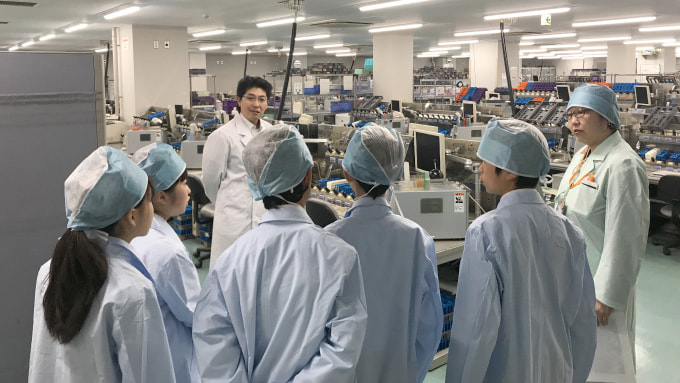 ■ Educational assistance to junior high and high schools
At our major laboratory complex (SRL Hachioji Laboratory), which analyzes specimens sent by major hospitals nationwide and handles esoteric testing, we accept company visits and study support for junior high and high school students. Our experienced employees with expertise guide the laboratory tour and explain about our business. We strive to support community development by offering social studies education.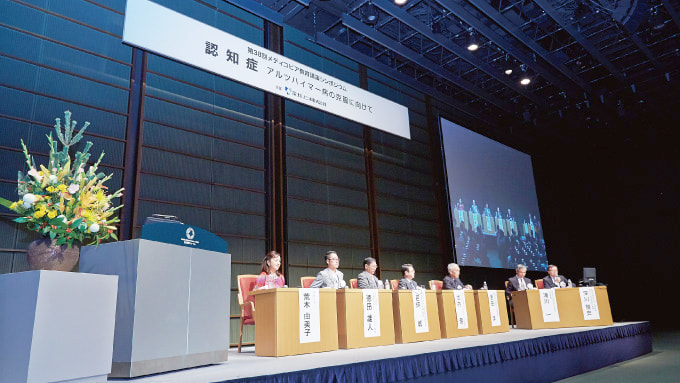 ■ Educational symposium to help develop healthcare
H.U.Fujirebio has held the Medicopia Educational Symposium in January each year since 1981. In keeping with the symposium theme, Development and Exchanges in Clinical and Experimental Medicine, we hold lectures and discussions to consider medical problems from a broader perspective.
Investment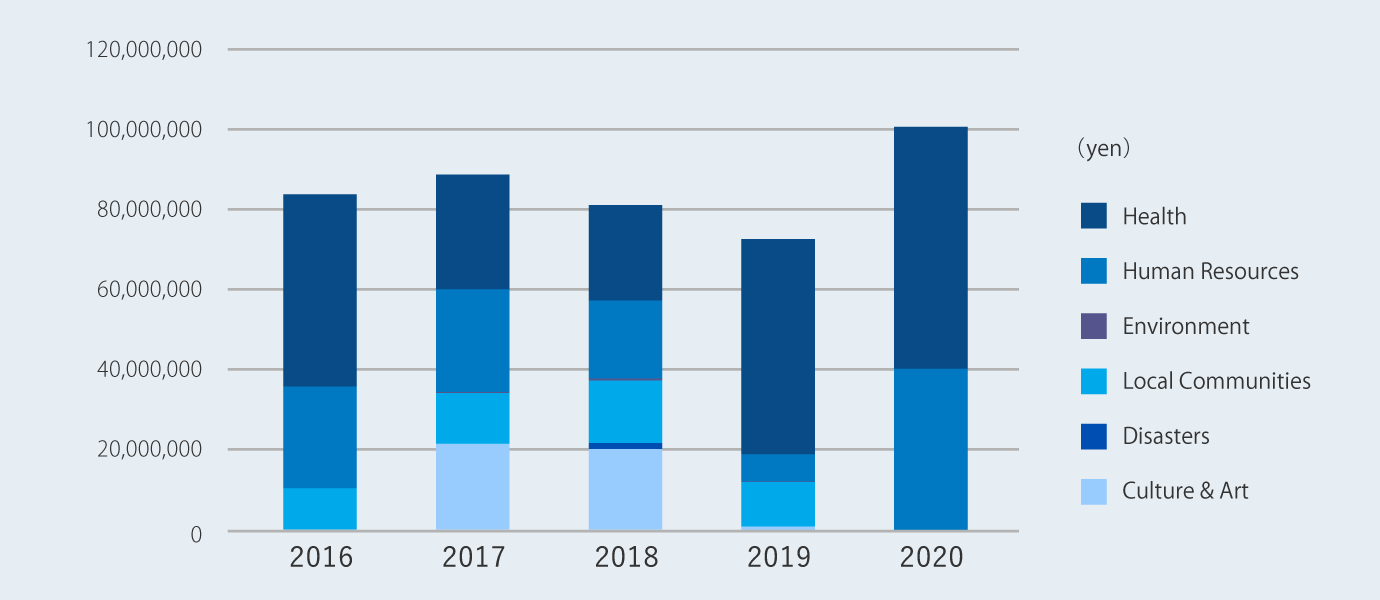 Unit:yen
Achievements
Area
2016
2017
2018
2019
2020
Health
48,085,000
28,678,296
23,876,348
53,315,771
60,466,788
Human Resources
25,400,000
25,700,000
19,500,000
6,800,000
40,481,818
Environment
0
281,482
462,963
100,000
0
Local Communities
10,290,830
12,667,488
15,664,863
11,034,160
310,000
Disasters
0
0
1,463,875
304,673
73,100
Culture & Art
0
21,380,000
20,087,037
300,000
0
Total
83,775,830
88,707,266
81,055,086
71,854,604
101,331,706
Sustainability Subcommittee