Wastewater Management
General Drainage (Drinking Water, Restrooms, Toilets, etc.) discharged into the public sewage system.
Wastewater from testing rooms is sent to the building's wastewater treatment facility, treated so that its values are below those set by public sewage standards, and discharged into the public sewage system.
Air Management
Exhaust measures for laboratories that handle microorganisms and chemical substances, and for laboratories that may generate odors, are as follows: HEPA filters, deodorizing equipment, exhaust cleaning equipment (scrubbers) that also remove chemical substances, etc. are installed depending on the purpose.
When performing tests where microorganisms are likely to be dispersed
Testing is performed in a safe cabinet equipped with a high-performance filter (HEPA), ensuring no dispersal of microorganisms in the testing room or release into the atmosphere.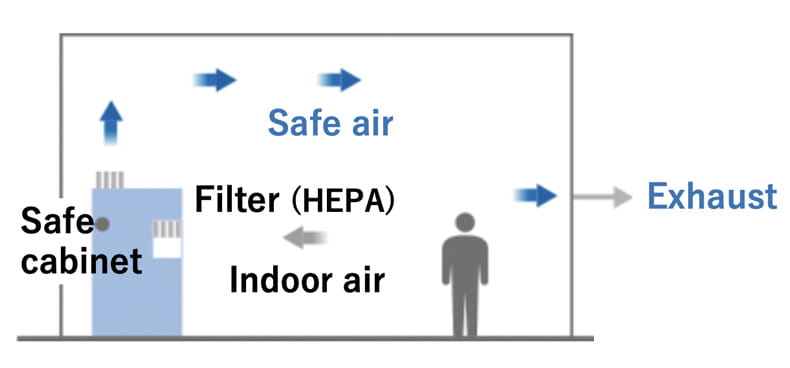 In the case of odors or dust from chemicals, etc.
Exhaust is subject to high-performance filters (HEPA, activated carbon) and exhaust cleaning equipment (scrubbers) that remove the chemical substances.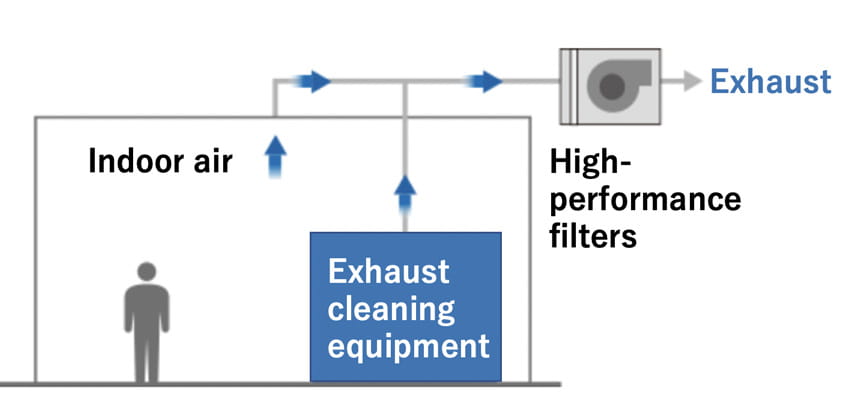 Waste Management
We separate, store, collect, transport, and dispose of waste properly in accordance with the Waste Management and Public Cleansing Act. Infectious waste, which is the type of waste most frequently generated in the field of clinical testing, is disposed of externally after being sterilized at our in-house waste treatment facility.